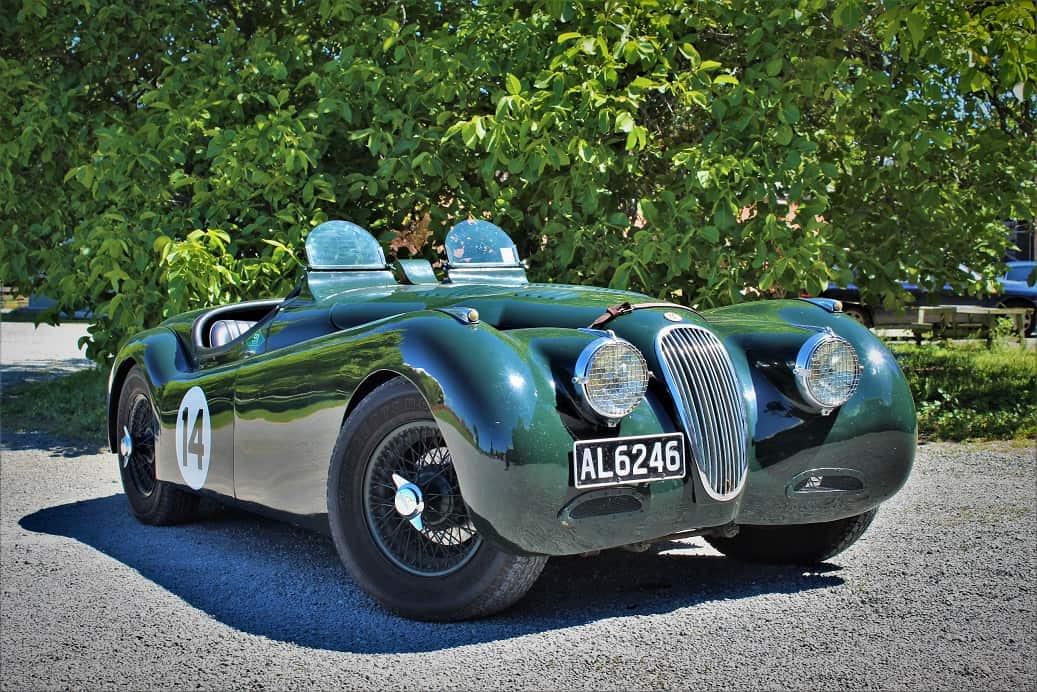 This Jaguar XK120 is a Road Legal Kiwi Racing Legend
Share With Friends:
By Ben Selby
Any Jaguar XK120 is special. Built from 1948 to 1954, the XK120 was the car which made Jaguar as we know it today. With its XK straight six and gorgeous flowing lines, the XK120 quickly became the must-have accessory for all tycoons and celebrities, such as Clark Gable and Frank Sinatra.
The XK120 also saw its fair share action on the global motorsport stage. Le Mans, the Ulster Tourist Trophy and the Monte Carlo Rally were all the stomping ground for this new cat. While XKs like the famous Monte NUB120 took all the sporting headlines, one competition XK120 in New Zealand gained all manner of attention from Kiwi racing fans throughout the fifties and sixties. Called the Silcock/Middlemass XK120 racer, it is one very special car.
The car, rego AL6246, was bought new by Dave Silcock from Ron Sylvester's Sydneham Park Car Sales in 1950 for 375 pounds. Chassis number #660534 indicated it was the 534th RHD XK120 built. Silcock bought with intentions to use it as a road car. However, this changed after a trip to Ruapuna Speedway outside of Christchurch. After seeing the local sports car class competing in earnest, Silcock decided he had the perfect machine for the job. He decided to take his new Jag racing.
He had some wind deflectors made for aerodynamics and fitted a side exhaust system with all the silencing removed. Before you could say "Coventry", Silcock was competing in his first racing event. He also won it. Silcock then began to modify the XK straight six by boring it out and fitting front disc brakes, drilled disc wheels and a limited slip diff. Thanks to these sporting additives, Silcock was able to win the South Island Sports Production Class with it.
AL6246 saw much success in events like the Waimate 50. It was eventually acquired by Brian Middlemass. Under Brian's ownership, the modifications took over and the Jag became even more of a weapon. Brian once wrote "when purchased by me, it was probably one of the roughest XKs in New Zealand, having been rolled twice and apart from considerable body damage, was missing many mechanical and hard to get parts such as lights, bumpers, windscreen and interior trim."
In went a 3.8L straight six from a then modern-day E-Type bored out to 3.9L. Also added were triple side draught Dell'Orto carburettors, 9.5 to 1 compression pistons, torsion bars from an XK150, a four-speed gearbox with overdrive from a MK2, uprated rear shocks, flared rear guards, extra bonnet vents, leather bonnet strap, a lightened flywheel, wire wheels and a special Laycock clutch and plenty of other tweaks and adjustments.
The end result was a Jaguar XK120 which produced 300hp and was good for 156mph flat out. Brian was able to record quarter mile run times of 14.5 seconds and was able to lap the original Ruapuna circuit in 53 seconds. Brian's modifications even led to Dave Silcock himself referring to the car as the Middlemass Jaguar, stating "Brian took it much further than I ever did."
Brian sold the car on in 1977 where AL6242 passed through a number of owners over the years. Today it is owned by Jesmond Micallef of Waimak Classic Cars. Today it sits as the centre piece of Jesmond's collection of vintage Jaguars and other classic cars. Very few people have been given the chance to drive this very special racing Jag. So, you can imagine my surprise when Jesmond asks, "Do you want to do a feature on the XK?" It took all of a few seconds to say yes please.
Getting into to the XK120 requires a certain technique. The door requires a firm tug on the handle for it to open. Once it swings out you can clamber aboard and slot yourself gently down into the cockpit. After a while of moving my lanky legs about, I was set. Its hard to imagine running to this car, leaping in and driving off at speed like the traditional Le Mans start. But they managed quite easily, whereas I could not.
Anyway, once you are in you sit low with that three-spoke racing steering somewhat close to your chest. With the passenger seat covered by the plate a la Le Mans style and those two half circular wind deflectors in front of you, it does feel like a post war single seater. The pedals are slightly off-set in relation to the wheel so half of you is somewhat anchored sideways but you do get used to this.
Right, time to fire up this piece of New Zealand racing history. With the right amount of choke applied, one turns the ignition key and in typical Jaguar fashion, presses the engine start button. What happened next was nothing short of glorious. Those six cylinders began their cycle and the side draught del Orto carbs began mixing air and petrol. The result, thanks to those modified side exhausts, was an engine note which would trigger Greta Thunberg.
A bit of pedal travel is required to get this road-going endurance car performing its opera at the highest pitch. The sweet sound of a Jaguar six, especially one modified such as this, goes down as one of the all-time great engine noises. The cat was well and truly awake. With the sun beating down, driving gloves and shades on, the time to drive was nigh.
The four-speed manual box requires a positive throw and feels very much like a bolt action Winchester rifle when selecting each gear. Moving off and the lack of power steering becomes blindingly obvious.
After rumbling out of Waimak Classic Cars HQ, the temptation to ring its neck was too good to resist. I pointed the old cat's nose towards State Highway One. It could have been the run up to Dunlop Bridge at Le Mans because here, this very special Jag came into its own.
First gear, moving off with right foot planted, the revs began to rise. Soon enough, my entire surroundings become engulfed in a deafening bellow from that modified straight six. The small half-moon wind deflector keeps the torrent of wind out of my face but everywhere else gets buffeted by the equivalent of a howling gale.
I planned to wear my tweed flat cap but Jesmond assured me it would be best left off, otherwise I would lose it. After less than five minutes on the road, it was apparent he was spot on.
The revs climbed higher, the noise grew louder, the wind grew more intense, and best of all, the smile on my mug got even bigger. By the time the rev needle reached the red, it was complete joy and bloody loud too. Then shifting into second the process started all over again.
As the white lines on SH1 started began to merge into one, the XK120 was all warmed up, but you have no time to relax, you have to get on with the job of driving. The Middlemass/Silcock Jaguar XK120 is not a car which you can just cruise in top gear. It requires total concentration at all times, especially when you come to a corner.
In most cars, you arrive at the corner, apply the necessary amount of braking and navigate your way around the bend with no real effort on your part required. To repeat the same process in this Jag requires so much more.
Take the steering. You can't turn left or right when you arrive at the corner. Instead you actually have to coax it into the corner before you get there. Only then the big cat will be set up right to navigate the bend. Braking and being in the right gear is also paramount. You have to book your time to brake well in advance. Get all of these right and you can make the bend cleanly and safely. If not, out come the white knuckles as you try your hardest to stay clear of that grass verge.
This no-nonsense XK120 is about driving. Proper driving. No creature comforts. No roof. Just you and a machine which demands respect. Every gear change, every touch of the accelerator and brake pedal requires 110 per cent of your attention. This is what driving used to be. Raw and simple.
This Jaguar XK120 racer is hands down one of the most incredible and awe-inspiring cars I have ever driven. Whether around the twisty stuff or blasting through North Canterbury, it is such a raw riot of an automobile. For a true dyed in the wool petrolhead, few classic car experiences can equal a drive in the Silcock/Middlemass Jaguar XK120. Thank you, Jesmond, for the opportunity.